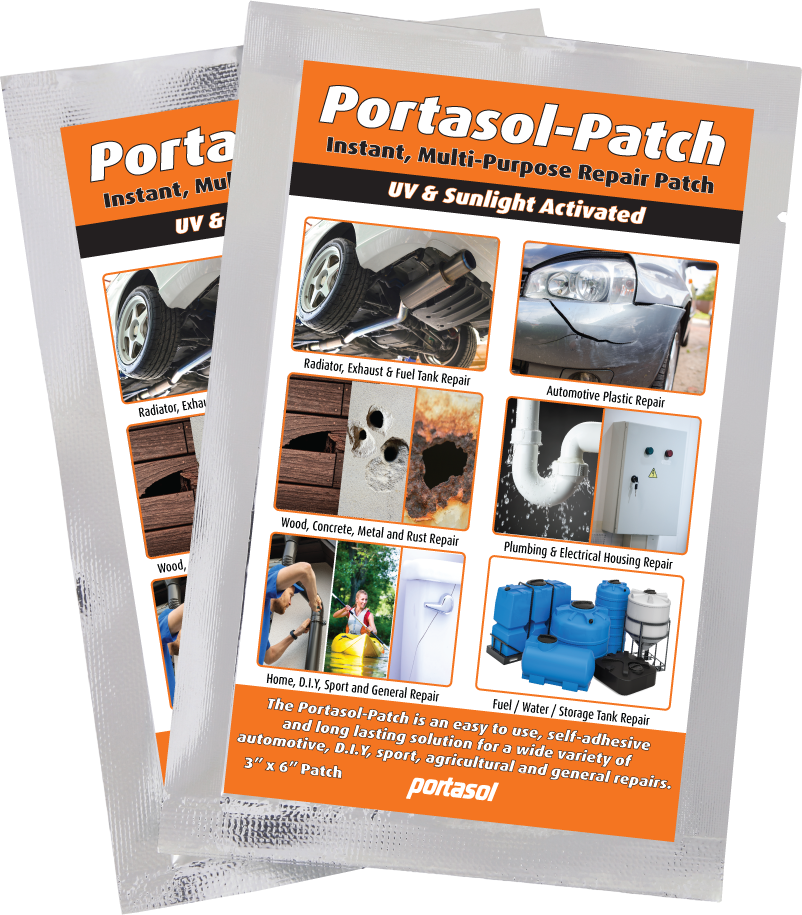 The Portasol-Patch: The Ultimate Multi-Purpose Repair Product
The Portasol-Patch is an Instant, Multi-Purpose Repair Patch that is easy to use, self-adhesive and a long-lasting solution for a wide variety of automotive, home, D.I.Y, structural, sport, agricultural and general repairs.The Portasol-Patch is an extremely durable fibreglass reinforced polyester that can be sanded, grinded, drilled, tapped, and painted. It is waterproof, weather-proof, rot, rust, fire and impact-proof, while also being chemical and temperature resistant from -40°C to 200°C.
The Portasol-Patch is a unique product that comes out of the package pliable, but after just 10 minutes of sunlight or UV light exposure becomes as hard as steel. The non-toxic patch will work on almost any hard surface including metals, fibre-glass, plastics and many more. The patch will not shrink or expand during application or when cured.
Below are some industries and examples of repairs that the Portasol-Patch excels at.
Automotive: Bumpers, Radiators, Rusted areas and Exhaust leaks, Fuel Tanks and Lines, Headlights, All kinds of automotive plastics, Clips, Fairings and Body components.
Home & Garden: Electrical & Plumbing Repair and Maintenance, Baths, Showers, Plastic tanks, Pipes, Gutters, Windows, Doors, Furniture.
Hobby/ Sport/ D.I.Y / Marine / Agriculture: Sporting equipment, Canoes, Boats, Outdoor Furniture, Feed Containers, Water / Oil / Fuel tanks, Agri tanks, Barrels, Buckets, Industrial containers , Wood, Metal, Glass, Ceramics, Concrete, Plastics.
Some other applications include :
HVAC – Condensate Pan & Drain Repairs, Duct Repairs / Construction – repairs and equipment repairs / Wheelbarrows, Buggies and Pushcart
Outdoor Patio Furniture / Pipelines / Boat & Marine / Cargo & Freight / Electrical / Irrigation / Machinery / Plumbing
Pools & Spas / Solar / Roofing / Sheet Metal / Trucks & Trailers / General Utilities / Tanks / Campervans & Motorhomes
How do I use a repair patch?
It couldn't be easier! The extremely easy 3-step application process ensures the product is accessible to everyone, from D.I.Y enthusiasts to the handyman, automotive repair specialists and mechanics to plumbers, farmers, professionals, and everyone else! The Portasol-Patch has endless applications and it could not be easier to use.
1. Surface should be cleaned, dry and free of any contaminates. Cut the patch into any size you want, without exposing to UV / Sunlight. Place remaining material back in protective bag.
2. Remove white backing tape to expose the sticky resin. Apply Quick Patch to repair area with sticky side down and press firmly.
3. Apply patch then remove transparent film backing on the other side after application and expose to UV or Sunlight. Curing time depends on UV intensity, between 5 minutes (sunny) and 50 minutes (cloudy) or use a UV light indoors with a minimum of 51 lumens.
Key Features :
· Easy application – just cut, peel and stick
· Flexible and Waterproof
· Weather and UV Resistant
· Temperature Resistant from -40°C to 200°C
· Extremely durable reinforced polyester/plastic
· Bonds to all hard surfaces except Polypropylene (PP)
· Can be drilled, tapped, sanded and painted in less than an hour
· No shrinkage or expansion during the application or after curing
· Fast curing (starting at 5 minutes depending on UV intensity)
· Curing Mechanism: Ultra Violet (UV), Natural or UV Lamp
· Fire rating Class 1
If you would like to view a video of the Portasol-Patch in action, follow this link to our youtube channel. https://www.youtube.com/watch?v=2ANHfYkkBgU